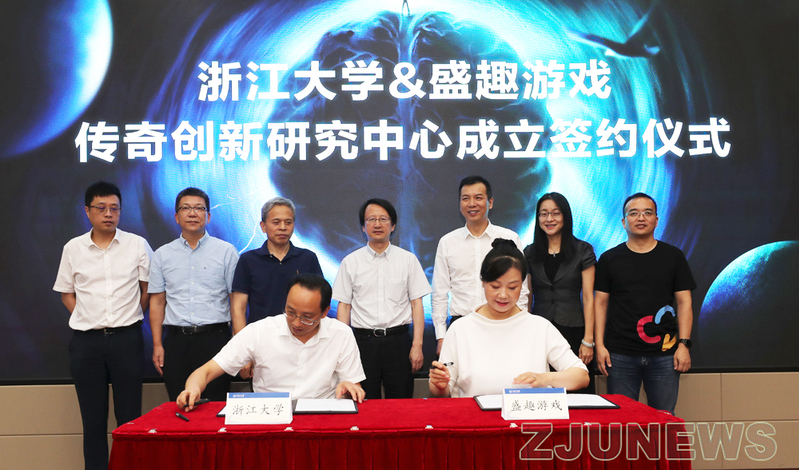 On August 20th, Shengqu Games, a high-tech company, signed contract with Zhejiang University at Zijingang Campus to jointly establish Zhejiang University Legendary Innovative Research Center.
Mr. Wang Ji, president of the company, and Pro. Wu Zhaohui, president of the university both delivered a speech and unveiled the nameplate for the research center together. Ms Xie Fei, CEO of Shengqu Games, and Pro. Wang Lizhong, vice president of Zhejiang University signed the contract on behalf of the respective party.
Pro. Wu Zhaohui, the Academician of Chinese Academy of Sciences, said that future intellectualization will gain the features of interdisciplinary studies and convergence, become more technology oriented and people centered, present the trend of the combination of virtual and actual worlds and open source and interconnection. The parties will joint efforts in building top new-type university-enterprise cooperative relationship, and develop new interdisciplinary research areas. Both parties will take the opportunity of the establishment of Legendary Innovative Research Center to jointly grab the high ground of a new round of digital technology, thus building the legend of cooperation between major universities and enterprises.
Mr. Wang Ji, the president of Shengqu Games, said that games is an excellent digital tool for human to study and understand consciousness. People will perceive virtual circumstances in a more similar way as real ones. The cooperation can promote Shengqu Games to develop sustainably and research projects to be industrialized. He look forward that the cooperation center can gain fruitful achievements in digital medicines.
As introduced, Zhejiang University Legendary Innovative Research Center will strive to realize front breakthroughs and industrial application in artificial intelligence including digital medicine, digital organs, human-machine integration in games and dream research.
Pro. Duan Shumin, the Academician of Chinese Academy of Sciences, Mr. Zhang Yuzhu, CTO of Shengqu Games attend the ceremony. Both parties introduced the establishment of the research center.
In recent years, Shengqu Games has maintained the business advantages, and has been actively exploring front science and technology. It has laid importance in human-machine integration, digital medicine and other new projects to cultivate S&T growth engine besides games.
(Translated and edited from ZJU NEWSROOM)