As the first address, professors from Zhejiang University published 9 articles on CNS in 2019, increasing by 5 compared with 2018 and 2 times higher than the average number in recent 5 years. Here is a brief review on them.
Nature
In 2019, asfirst address, ZJU published 5 articles on Nature
01
At the midnight of Jan. 10th, Nature published research results from Prof. Chen Hongsheng's team who successfully developed first three-dimensional photonic topological insulator. The progress expanded three-dimensional topological insulator from fermi system to boson system, and is expected to largely increase the efficiency that photon travels in waveguide.
02
On April 4th, Nature reported a significant research progress from the research team led by Prof. Chen Jun and Prof. Peng Jinrong about the molecular mechanism of genetic compensation effect.
The group first revealed that genetic compensation mechanism is triggered by messenger mRNA with premature termination codon, and participated by Upf3a in NMD. Meanwhile, they also revealed that homologous sequence nucleic acid is essential to improve the genetic transcription of compensation effect. The research results provided new thoughts for disease treatment.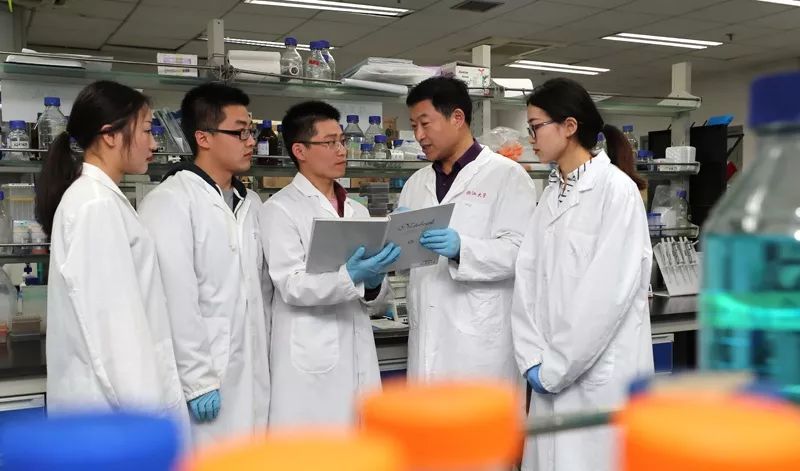 03
On Oct. 10th, an article introducing the latest research results in high-entropy alloy was published on Nature. Yu Qian, a scientist from the group led by Zhang Ze, academician of CAS, cooperated with Zhu Ting from Georgia Tech and Robert Ritchie from UC Berkley to start from studying distribution of elements in high-entropy alloy.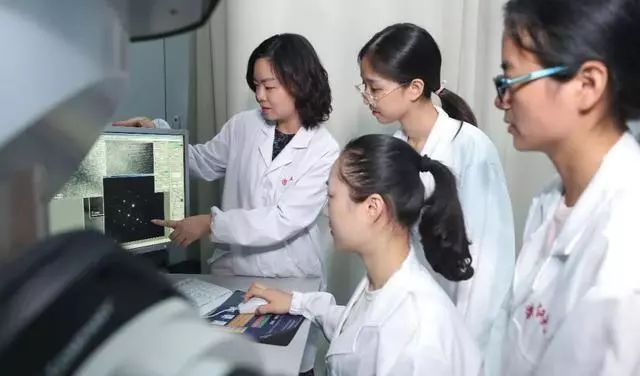 They revealed special mechanism of mechanical property of lattice regulation. The unique concentration wave regulation in high-entropy alloy is extremely elaborate and continuous, and a controllable and efficient method to strengthen materials. Nature believed that the research results are theoretically important in understanding strengthening mechanism in alloy with complex composition.
04
On October 17th Beijing time, Nature published the latest research results from the research team led by Prof. Tang Ruikang from the Department of Chemistry of ZJU. Researchers have produced calcium carbonate crystal in lab at centimeter level with strong plasticity. With this brand-new method, the construction of this material is continuous and completely compact. And the method has broad use in fields including 3D printing and substance reparation.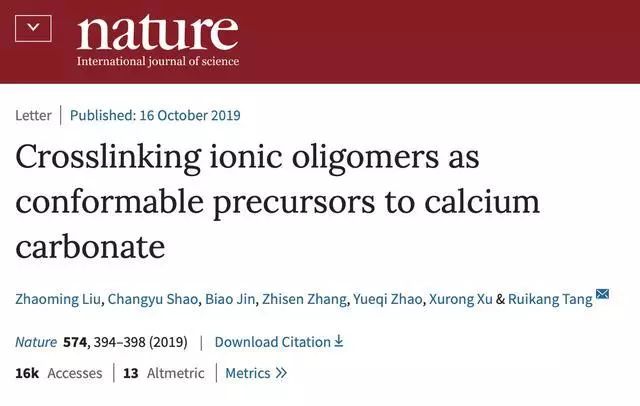 Nature reviewers believe that this research has combined the theory of classical inorganic chemistry with high polymer chemistry, and is possible to start a new chapter for material synthesis.
05
The lab of Zhou Qing, a researcher from Life Sciences Institute of ZJU, cooperated with affiliated hospitals of ZJU, and discovered that RIPK1 variation can lead to autoinflammatory disease. The research results were published on Nature online on December 12th. The first authors are Tao Panfeng, Wang Jun and Wang Shihao, doctoral students from the research team of Zhou Qing. The corresponding authors are Zhou Qing and Yu Xiaomin from ZJU, Yuan Junying from Harvard University and Wang Xiaochuan from affiliated pediatric hospital of Fudan University.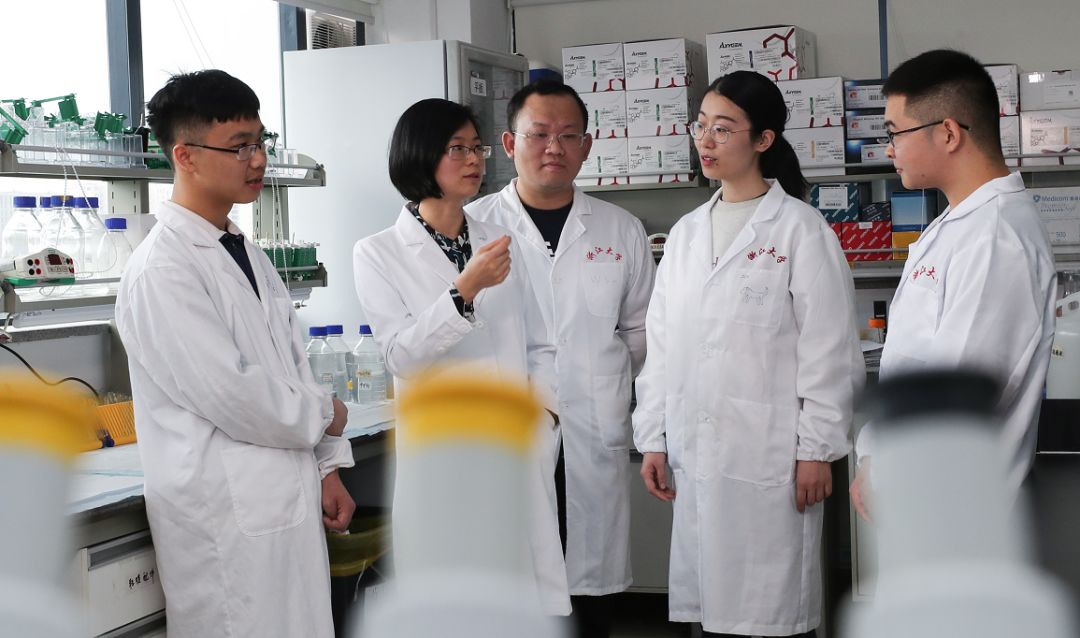 When studying the molecular mechanism in disease, the research team found that RIPK1 gene in patients mutated, leading to changes of amino acids of RIPK1 proteins at the point which should be cut by Caspase-8. RIPK1 can't be cut as usual. The changes destroy the normal activation pattern of RIPK1, and improves its activity. So that apoptosis and programmed cell death were accelerated to some extent. Since the balance of cells was struck. Inflammation levels of patients increases tremendously. And symptoms including fever appear. This mechanism has provided a more accurate individual scheme for clinical treatment. Meanwhile, scientists also found that different types of cells have different responds to the single RIPK1 mutation, revealing that tissues and cells in human bodies can have different symptoms with the same gene. The research findings have enriched the function of human RIPK1 in death regulation of different types of cells.
Science
In 2019, as first address, ZJU published 3 articles on Science.
01
With joint efforts by Institute of Physics, CAS, Institute of Automation, CAS, Beijing Computational Science Research Center, ZJU and other Chinese research units, quantum chip with 20 qubits was developed. And the scientists have successfully realized global entanglement, refreshing the world record of the number of entangled quantum bits in solid quantum devices. The research result was published on Science on August 9th.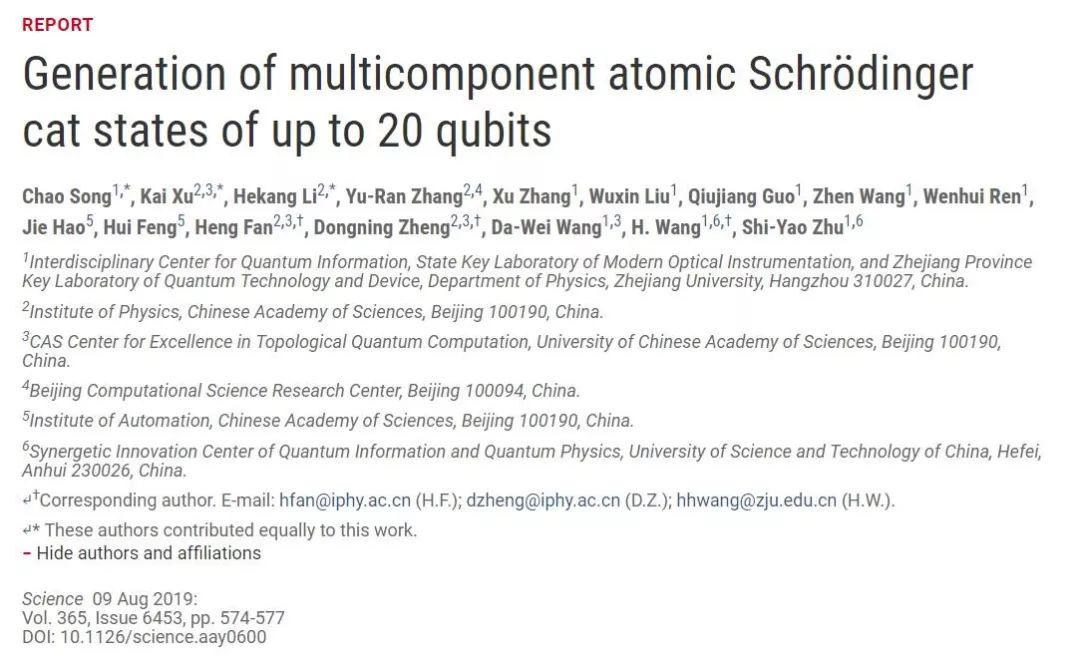 The experiment of multi-bit quantum entanglement is the significant indicator to measure regulation capacity of quantum computing platform. Therefore, the competition is fierce across the world. Through 2 years of device design and development, experimental measurement and regulation and data processing, the Chinese scientists have successfully increased the number of entangled qubits to 20.
02
On October 25th, the research results concerning KCC1 drawn by the research team led by Prof. Guo Jiangtao were published on Science. The first authors are Liu Si, Chang Shenghai, doctoral students from ZJU and Han Binming, master student from ZJU.
The research team analyzed the structure of KCC1 under cryo-EM whose resolution is 2.9 angstrom, revealing the binding site of potassium and chloride ions, and proposed a pattern of potassium and chlorine. They have provided a new perspective for disease treatment and drug design.
03
On the same day (Oct. 25th), research on receptor proteins that recognize the immunity against bacteria has been successfully published on Science. The first authors are Lu Yan and Zheng Yuping, doctoral students from ZJU, Étienne Coyaud, post doctor from Princess Margaret Cancer Research Center in Canada, and Zhang Chao, lecturer from School of Medicine, ZJU.
The research team found that NOD1 and NOD2, two important types of receptor proteins from NLR can be palmitoylated with ZDHHC5, further leading to the generation of bacterial inflammatory pathways. The research findings have effectively connected scientific theories and clinical problems, and may have significant values for future diagnosis and treatment.
Cell
Last year, as first address, ZJU published 1 article on Cell.
01
On October 31st, 2019, an article titled Stress-induced metabolic disorder in peripheral CD4+T cells leads to anxiety-like behavior was published on Cell, the first authors are Fan Keqi and Li Yiyuan, doctoral students from ZJU.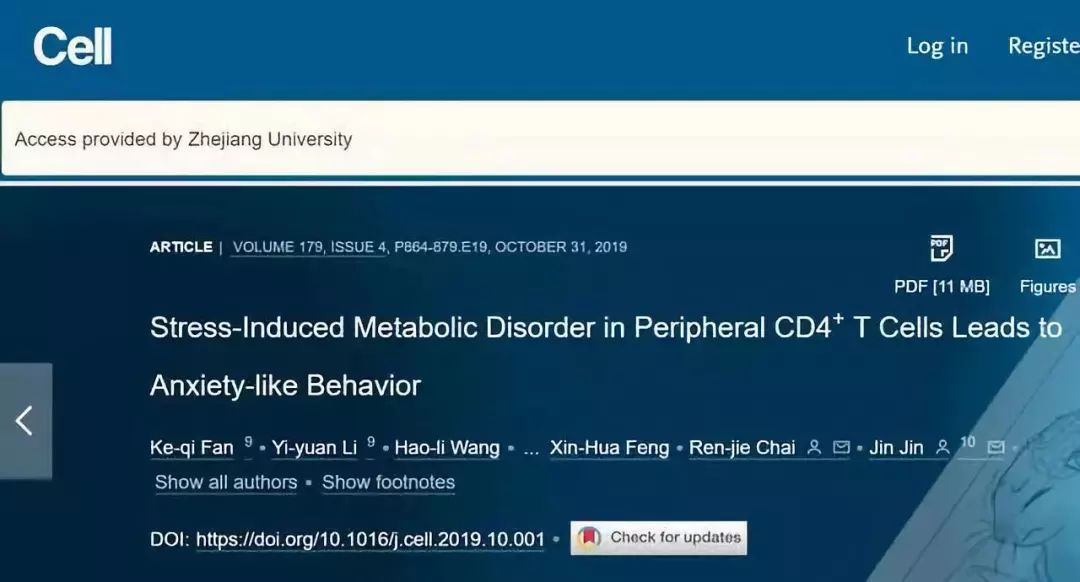 The research team led by Prof. Jin Jin found that metabolic disorder in peripheral CD4+T cells plays an important role in chronic stress-induced mental diseases. The research results have provided great help for further understanding the correlation among neurodevelopment, mental diseases and immune physiological functions, as well as pathogenesis of MDD and anxiety, and developing new drugs.
Last year, ZJU scientists have published many high-quality articles on top journals including CNS, which is inspiring for ZJU people. 2019 has passed and we are on a new starting point, we look forward to more research results from ZJU research teams this year, strengthening the research capacity of the university and making contribution to our society.
(From ZJU NEWSROOM)